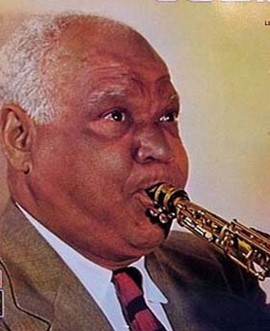 Sidney Bechet (1897 – 1959)

The year is 1907 and in the garden of a house in New Orleans, the great cornet player Freddie Keppard and the Manual Perez band were playing for Leonard Bechet's 21st birthday party. While they were playing, they heard some striking clarinet accompaniment coming from inside the house. Intrigued, a couple of the band members went to see who was playing. There they discovered a young Sidney Bechet furiously playing along with the band on his brother's clarinet. He was only 10 years old, but to the musicians who saw him, it was immediately apparent that they were witnessing a talent well beyond his years.

12 years later when Sidney Bechet arrived in Liverpool on 14th June 1919 with the pioneering Southern Syncopated Orchestra, he became the first acknowledged jazz great to set foot in Great Britain. In August of the same year, he would be playing before the king at Buckingham Palace.

In October 1919, the distinguished Swiss classical conductor Ernest Ansermet, who had heard the SSO and Bechet play at a London concert, was moved to publish what many consider to be the first serious musical consideration of jazz in print. Over the next three years Sidney remained mainly in London as part of an SSO breakaway group the Jazz Kings, playing all over the UK, including long residencies at the Embassy Club in Old Bond Street.

Bechet was rubbing shoulders with the very elite of British society, and among his students was Charles Henry Maxwell Knight, the future British spy who was the inspiration for the character "M" head of the Secret Intelligence Service in Ian Fleming's James Bond novels.

By 1922 Sidney was living at 27 Southampton Street in an area which included other famous residents such as Virginia Woolf, George Bernard Shaw, and Victorian Prime Minister Lord Salisbury. Southampton Street was renamed Conway Street after 1945 and the Sidney Bechet blue heritage plaque was unveiled on Conway on the 24 th November 2014 by his son Daniel. Composer Duke Ellington said of Bechet that "Of all the musicians, Bechet to me was the very epitome of jazz.

Location: 27 Conway Street, W1T 6BW