Founded in 2006, the Nubian Jak Community Trust (NJCT), is the only commemorative plaque and sculpture scheme focused on memorialising the historic contributions of Black and minority ethnic people in Britain and beyond.
The NJCT has since installed more than 60 commemorative blue and black plaques around the UK. The NJCT installed the African and Caribbean War memorial in Windrush Square in Brixton, London in 2017. Locally known as the Brixton Cenotaph, it was the UK's first tribute to every regiment from Africa and the Caribbean that served alongside British and Commonwealth Forces in World Wars 1 and 2. It was accompanied by the anthology REMEMBERED -In Memoriam.
In 2021, the NJCT will erect the Windrush and Commonwealth NHS Nurses and Midwives Statue at the Whittington Hospital, London, to honour nurses and medics integral to the foundation of Britain's National Health Service in 1948. Recently, the NJCT completed a second anthology.
Nursing a Nation: An Anthology of African and Caribbean Contributions to Britain's Health Services and the new charity single recorded by Jak Beula, Eric Roberson and The NHS Choir.
ENRICHING OUR COMMUNITIES
The NJCT team collaborates and partners with a wide coalition of organisations and individuals to raise awareness about important transatlantic figures who are too often lost to the history books. Ultimately, Nubian Jak bears witness to their historical presence, bringing to life their fascinating stories and contributions across Britain to a wider audience for posterity.
The NJCT is a charity, running on community love. It is always eternally grateful for donations, as this empowers and enables this important and historic work to continue.

Nubian Jak Community Trust Keeps The Past Alive.
Working with the community to place the Blue Plaque across the Nation. Keep visiting our website to stay updated with us.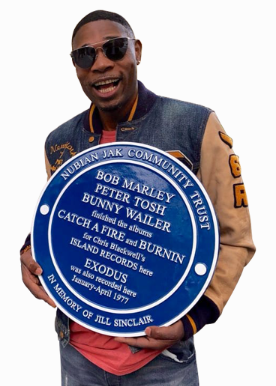 Bringing together all of the works delivered for you by the Nubian Jak Team from the past to our future.