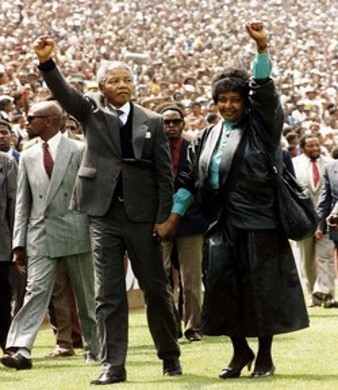 Nelson and Winnie Mandela
ANC/Nelson Mandela Anniversary Plaque
Twenty years after the release of Nelson Mandela, Islington Council, in partnership with the Nubian Jak Community Trust, installed a Green Plaque on the former headquarters of the African National Congress (ANC) at 28 Penton Street, Islington, London N7.
Founded by John Langalibalele Dube in 1912, the ANC started life as the South African Native National Congress (SANNC), with a social democratic mission to gain full voting rights for Black and mixed-race South Africans. As time went on, and political, social and economic conditions worsened in South Africa with the introduction of Apartheid by the National Party government in 1948, the political party turned into a liberation movement with headquarters in Lusaka, Zambia.
28 Penton Street was owned by the African National Congress (ANC), and between 1978 and 1994, the townhouse was the London headquarters of the ANC-in-exile. The office was the central base for coordinating anti-apartheid activity in the UK and their famous activists brought the international community's attention to some of the atrocities occurring in the country.
In March 1982, on a morning that Oliver Tambo was due to address crowds of anti-apartheid demonstrators in Trafalgar Square, the building was bombed. An ANC worker was injured, and the ANCs printing facilities were destroyed. Many years later, nine South African former security policemen admitted to the bombing and were granted amnesty by the Truth and Reconciliation Commission.
After 1994, the ANC moved out of the Penton Street office when the ANC finally came to power and Nelson Mandela became president in South Africa's first democratic elections. The charity Action for Southern Africa (ACTSA) succeeded the anti-apartheid movement, which remained in the building until 2006. Since its inception ACTSA had campaigned with the people of southern Africa and, with them, continued to build a future of justice, human rights, development and democracy for the region. Now, the Liliesleaf Trust UK is creating a Centre of Memory and Learning (CML), within the former headquarters of the African National Congress (ANC). The CML will be dedicated to the heritage of the South African liberation struggle, international solidarity against apartheid, racial injustice and positive activism.
The commemorative plaque was unveiled on Monday, 22nd February, by His Excellency Dr Zola Skweyiya, High Commissioner for South Africa, Islington Council leader Terry Stacy, Councillor The Hon Anna Berent Mayor of Islington, and Jak Beula, Chair of the Nubian Jak Community Trust. Guests at the unveiling included anti-apartheid campaigner Rosemary McDonald and Labour MPs Jeremy Corbyn and Emily Thornberry.
The ANC Plaque, coming on the eve of the 20th anniversary of the release of Nelson Mandela from prison, and just a few months before the world cup in South Africa, is a timely reminder of those whose commitment to freedom, justice and democracy, has contributed to a new South Africa of hope and fulfilled potential. Jak Beula, Chair of the Nubian Jak Community Trust.
Location: 28 Penton Street, Islington, London N7