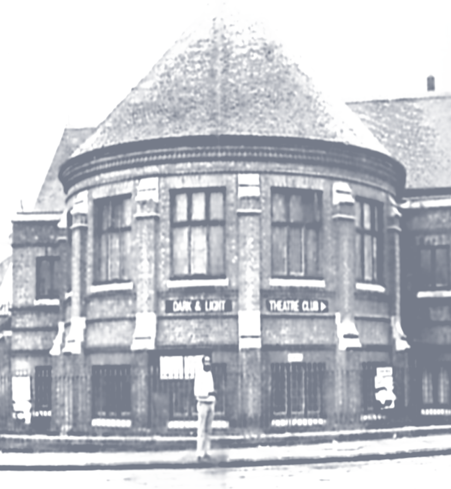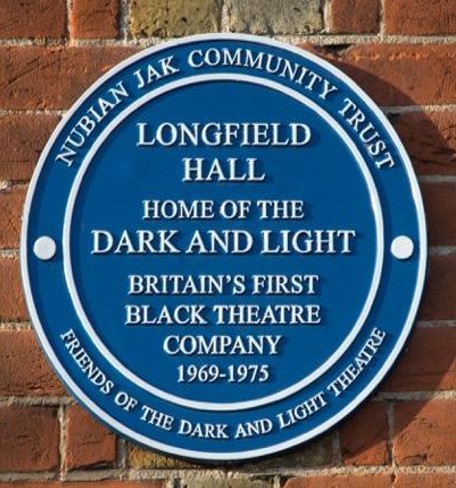 Longfield Hall (home of the Dark and Light Theatre) [1969 - 1975]

In 1969, a Grade II listed building in Brixton became home to the first building based Black theatre company in Britain. The historic building was Longfield Hall, and the theatre group based there was known as the Dark and Light, and founded by Jamaican actor and administrator Frank Cousins.

Between 1969 and 1975, under the artistic directorship of Frank Cousins, the Dark and Light staged many productions at Longfield Hall. The group also toured extensively throughout the UK, and showcased plays by Wole Soyinka, Amir Baraka (Leroy Jones), Eugene O'Neill and Athol Fugard. The theatre company also staged several pantomimes with Caribbean themes like Anansi the Spider man, and Brer Englishman. Their pioneering work also included forming a local youth theatre in the community.

To commemorate 50 years since the formation of Dark & Light, a blue heritage plaque was installed on Longfield Hall by the Nubian Jak Community Trust in 2019. The ceremony took place on Sunday 27th October at 1pm. Many celebrities and past performers were in attendance, and Frank Cousins flew over from his base in Spain to unveil the plaque. A reception followed the unveiling and included a mini medley performance of some of Dark & Light's best known productions, featuring current actors that use the building.

I'm delighted to see the installation of this blue plaque in this significant historical location. The timing of this installation is particularly fitting as we are currently marking Black History Month in Lambeth with an extensive programme that educates and celebrates the enriching value of African Caribbean Heritage and Culture in all our lives. Lambeth Mayor Cllr Ibrahim Dogus.

The Dark and Light was bound to happen. But how? Finding Longfield Hall was the beginning. Without premises you have nothing. Frank Cousins, founder of the Dark & Light Theatre Company.

Frank was a true visionary. An actor who talked the talk, then put his money and considerable talents where his mouth was and walked the walked. I am so pleased he will witness his pioneering contribution to British theatre immortalised with a blue plaque in his lifetime. Dr Jak Beula CEO of the Nubian Jak Community Trust.

Born of the greatest struggles and obstacles facing black practitioners, The Dark and Light Theatre came into being thanks to the courage and the compassion of Frank and Gaie Cousins. Carmon Munroe, actor of stage and former D & L prodigy.

Longfield Hall Trust is proud and excited to see a permanent acknowledgement in place at Longfield Hall to celebrate the achievements of the trail blazing Dark and Light Theatre company. We've been working for a while to develop a community engagement project to celebrate their story. It's therefore fitting that in 2019, 50 years after Frank Cousins founded DLT, we have a permanent reminder of their presence here at the hall. Our National Lottery Heritage funded workshops for adults and young people will also bring the company's story alive during Black History Month, widening access to the history of this significant, black-led organisation for our community. Catherine Hamilton, Charity Development Manager, LHT.

Longfield Hall is currently managed by Longfield Hall Trust, a registered charity. The trust provides a welcoming space for the community to engage in arts, wellbeing and fitness activities. They are increasingly becoming a space for theatre, music and dance and are keen to nurture emerging artists, new writing and choreography. They run a lively and inclusive programme of activities and performances. In 2019 the Trust received funding from the National Lottery Heritage Fund for a project exploring the history of Dark & Light Theatre. This included conducting interviews with DLT associates and digitizing archive material to create a web resource. They are also running drama workshops for adults and young people.

Find out more about LHT at www.longfieldhall.org.uk

Location: 50 Knatchbull Road, London, SE5 9QY