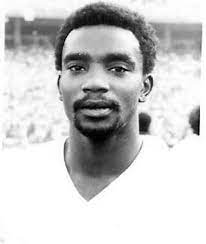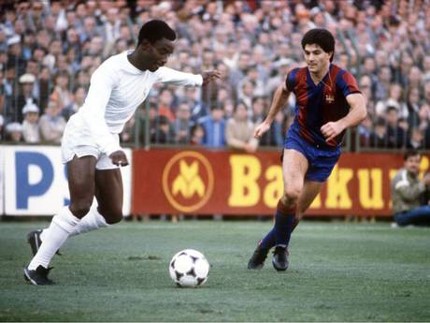 LAURIE CUNNINGHAM (1956-1989)

12 October 1974. A promising young footballer, aged 18 years, is about to make his debut for Leyton Orient. Used as a second-half substitute in a home game against Oldham Athletic at Brisbane Road, the match eventually finished 3-1 to the O's. However, there is no doubt to the home fans that they had discovered a new star. This fledgling talent would continue to do things with a football never before seen in the English game. His name was Laurie Cunningham, and 75 games later, he would be gone - sold to Midland's club, West Bromwich Albion, for £100,000, but not before being acknowledged by Leyton Orient fans as arguably the club's most gifted player ever. Laurie continued to make a name for himself at West Bromwich, where he formed a famous partnership with defender Brendan Batson and striker Cyrille Regis, aka the legendary 'Three Degrees'.

Laurie's talent as an elegant and skilful winger had not gone unnoticed, and in April 1977, he got the call-up to represent his country. It was a U21 fixture against Scotland, and Laurie scored on his debut, seemingly oblivious to the furore of becoming England's first Black footballer at the senior level. Inevitably, some of Europe's biggest football clubs came knocking on the door, but it was arguably the biggest - Real Madrid, who paid West Bromwich Albion almost a million pounds in 1981 to make him the most expensive ever British export at the time, and the first-ever English born player to play for the Spanish club.

He was an instant sensation and became a Real Madrid icon before injury put a temporary halt to his meteoric rise. In all, he spent four years at the Bernabeu and went on to play for a number of other big clubs, including Manchester United and Marseille. However, just when injuries looked like they had put paid to a stunning albeit unfulfilled career, Laurie moved to the most unfashionable club in English Football, Wimbledon FC. Neither he nor they could guess in their 101 years history that by the end of the 1987/1988 season, Laurie would lead Wimbledon to their first major trophy, the coveted FA cup. Ironically, it would be Laurie's only championship medal in English football.

In the same year, Laurie Cunningham returned to Spain and was signed by Spanish second-tier side Rayo Vellenceno. That season he helped the club to promotion and scored the goal that secured their move to the Primera League. He looked to be finally over his injuries and was preparing for life back in the top Spanish league when on the morning of 15 July 1989, Laurie Cunningham was involved in a fatal car crash in Madrid. He was 33.

The Nubian Jak Community Trust in partnership with Leyton Orient Football Club and Kick it Out, will be unveiling a commemorative blue plaque in honour of Laurie. The plaque will be placed on the site of the Old Leyton Orient Supporters Club on Brisbane Road, now a new build apartment block adjoining Leyton Orient Stadium. The plaque was unveiled by the Cunningham Family, in the presence of the Mayor of Waltham Forest, Leyton Orient Management Staff and fans, former football teammates, members of the public, press and media.

Laurie was more than a footballing phenomenon, even more than just a pioneer, he was a force of nature ahead of his time. Touched by genius, blessed with elegance, and supremely confident in his own abilities, if he was alive today, he would no doubt be a contender for the Ballon d'Or. Jak Beula NJCT

Location: 6 Brisbane Road, London E10 5NZ