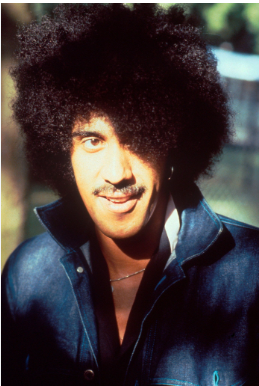 Phil Lynott [1949 - 1986]
Phil Lynott was the iconic lead vocalist of the band Thin Lizzy and the writer of the global hit song "The Boys Are Back in Town". The Irish singer, musician and songwriter was born in the West Midlands but grew up in Dublin with his grandparents. He fronted several bands as a lead vocalist, including Skid Row alongside Gary Moore, before learning the bass guitar and forming Thin Lizzy in 1969 as a founding member.
Thin Lizzy signed the first deal with Decca Records at Beaumont House in 1971. Towards the end of the 1970s, Lynott began a solo career, publishing two books of poetry, "Songs for While I'm Away" and "Philip". In 1997, both books were brought together in a single volume, again titled "Songs for While I'm Away". His song Yellow Pearl (1982) became the theme tune to Top of the Pops.
After Thin Lizzy disbanded, he fronted the band Grand Slam. In the 1980s, Lynott increasingly suffered drug-related problems, particularly addiction to heroin. In 1985, his final chart success was "Out in the Fields", followed by the minor hit "Nineteen" before his death in 1986.
He is a colossal figure in the rock world, and his family, friends and fans keep his memory and legacy alive through the music festival Vibe for Philo, a trust in Lynott's name for new musicians. In addition, Lynott's and Thin Lizzy's back catalogues have been re-released in expanded editions. In April 2007, the 1996 film The Rocker: A Portrait of Phil Lynott, which consisted mainly of archive footage, was released on DVD, and in August 2010, Yellow Pearl, a collection of songs from Lynott's solo albums, B-sides and album tracks, came out.
Lynott's beautiful lyrics, featuring working-class tales and numerous characters drawn from personal influences and Celtic culture, have already inspired many tributes. On 17 December 2020, a plaque was unveiled at his childhood home on Leighlin Road, Crumlin. A bronze portrait bust of Lynott was installed in his birth town of West Bromwich and unveiled on what would have been his 72nd birthday on 20 August 2021.
Luke Perry, a local artist, designed it and got it crowdfunded by Thin Lizzy fans. In 2019, a plaque was erected at Sandwell Hospital, where Lynott was born. And in Dublin, a life-size bronze statue of Lynott by sculptor Paul Daly was erected in 2005.
Location: 184 Kew Road, Twickenham
Homepage