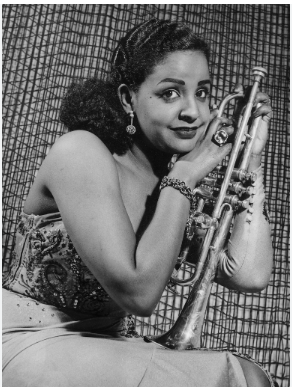 Mona-Baptise
Mona Baptiste [1928 - 1993] was already a well-known calypso star in Trinidad before travelling first-class to Britain on the Empire Windrush in 1948. It did not take her long to start her London career, appearing on the BBC's Light Programme just weeks after arriving and becoming a regular artist in radio and television, such as the variety show Brandbox in 1949. She began performing in London's top clubs, singing at Quaglino's restaurant, and recording for Melodisc.
Invited by the famous Italian-French singer Yves Montand, Baptiste began to tour Europe, conquering audiences in Paris, Germany and Belgium and charming them by singing in French and German. She was a hit in Germany, gaining popularity for her songs "There's Something in the Air" and movie appearances, including the films Tanz in der Sonne and An jedem Finger zehn in 1954. In addition, Baptiste starred in Porgy and Bess for East German television.
She left London with her husband, Michael Carle, and moved to western Germany. However, their happiness was short-lived when Michael was killed in a car crash in 1958. Baptiste retired until the 1970s when she moved to Ireland, where her second husband, Liam Morrison, was from. Baptiste tried to come back but was unsuccessful.
The footnote is that she had become so successful in Europe that her records are considered collector's items in Germany, Belgium, Austria and the Netherlands. After suffering a stroke, she died aged 65, on 25 June 1993 in Dublin, Ireland, and was in Deans Grange Cemetery.
In 2022 she was the subject of a 2022 picture book, We Sang Across the Sea: The Empire Windrush and Me, written by Benjamin Zephaniah and illustrated by Onyinye Iwu.