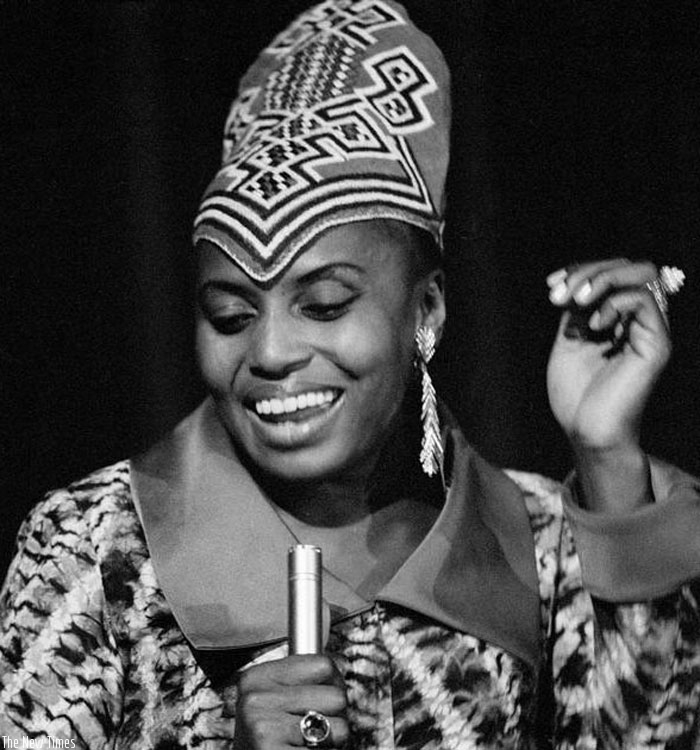 Zensile Miriam Makeba, 1932 - 2008
Zenzile Miriam Makeba, best known as Mama Africa, was South Africa's preeminent singer, delighting the world with her repertoire of traditional Xhosa and Zulu songs. She was also a prominent civil rights activist and, because of her criticism of the Apartheid regime, one of South Africa's most prominent exiles.
Makeba grew up in Sophiatown, a culturally rich and segregated Black township in Johannesburg. She began singing professionally in the 1950s, with local bands performing jazz, traditional African melodies and popular Western music, steadily gaining national and international recognition for her exquisite performances.
In 1959, Makeba was cast in the anti-apartheid film Come Back, Africa, which led to her performing in Venice, London, and New York City. In London, she met the American singer Harry Belafonte, who became a mentor and collaborator and with his encouragement, she moved to New York and recorded her first album. In 1960, the South African regime, in its cultural and political war on freedom fighters, prevented her from returning to South Africa for her mother's funeral, sending her into exile for decades.
In the life between Europe and America, she was briefly married to fellow South African jazz musician Hugh Masekela. A meeting with American Black Panther activist Stokely Carmichael led to their marriage in 1968.
An act that led to her exile again from America. The couple moved to Guinea, where she continued to record and tour in Africa and Europe. Makeba finally returned to South Africa at the invitation of the newly elected ANC. She continued to record, act and excel, recording a 1991 album with singer Nina Simone and Jazz trumpeter Dizzy Gillespie.
Makeba was loved internationally for her courage. The injustice of Apartheid Southern Africa wreaked havoc on her life, but she found a way to uplift others using traditional songs in the face of cultural obliteration.
Her fans loved "Pata Pata" and the "Click Song", which featured the distinctive click sounds of Xhosa, making them lyrical classics. Makeba made 30 albums and collaborated on several compilations. In 1964, she won a Grammy Award for best folk recording for "An Evening with Belafonte/Makeba." She died in Italy in 2008, having lived a life filled with inspiration.
Location: TBD