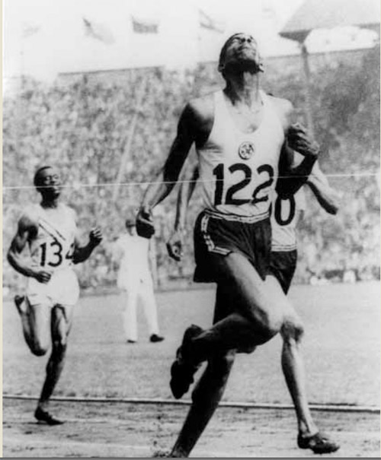 Arthur Wint [1920 - 1992]
Arthur Stanley Wint MBE, was Jamaica's first Olympic Gold medallist, Jamaica's second High Commissioner to the UK, a doctor at St Bartholomew's Hospital, London, and a Royal Air Force pilot during World War 2. For his extraordinary contribution, he was awarded an MBE by Queen Elizabeth II in 1954.
Arthur Wint was born in Plowden, Manchester, Jamaica, in 1920. He attended Calabar High School and Excelsior High School, where he excelled at Athletics and both the high jump and long jump. In 1942 he joined the British Commonwealth Air Training Plan and set the Canadian 400-metre record while training there. He was sent to Britain for active combat during World War II as a pilot but left the Royal Air Force in 1947 to attend St Bartholomew's Hospital as a medical student.

In the 1948 London Games and the Helsinki Games in 1952, Wint was Jamaica's star athlete. He won the first Olympic gold medal for the 400 meters (46.2 seconds), beating his teammate Herb McKinley and was part of the historic team setting the world record while capturing the gold in the 4 × 400 metres relay. Wint ran his final race in 1953 at Wembley Stadium, finished his internship, and graduated as a doctor.
In 1955 Wint returned to Jamaica, eventually settling in Hanover as the only resident doctor in the parish. In 1973 he was awarded the Jamaica honour of the Order of Distinction. From 1974 to 1978, he served as Jamaica's High Commissioner to Britain and ambassador to Sweden and Denmark.
He was inducted in the Black Athlete's Hall of Fame in the US (1977), the Jamaica Sports Hall of Fame (1989) and the Central American & Caribbean Athletic Confederation Hall of Fame (2003).

On Friday 19th October 2012, the NJCT honoured Arthur Wint with a blue plaque at his former home, 22 Philbeach Gardens, London. Arthur Wint's daughter Valerie Wint read from her book The Longer Run: a daughter's story on the life of Arthur Wint at the launch, Her Excellency The High Commissioner of Jamaica Mrs Aloun Ndombet-Assamba, the Mayor and Mayoress of the Royal Borough of Kensington & Chelsea Councillor Christopher Buckmaster and Mrs Anne Hobson were all in attendance to pay tribute to this great Jamaican son.
Location: 22 Philbeach Gardens, London SW5 9DY