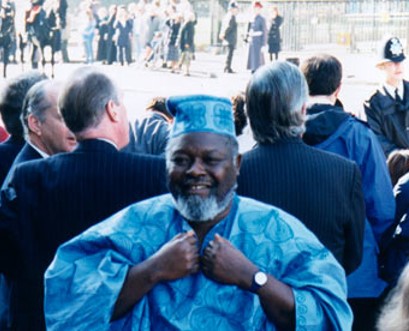 Bernie Grant MP [1944 - 2000] Bernie Grant was born Bernard Alexander Montgomery Grant on 17 February 1944 in Georgetown, Guyana. He was the second of five children born to his parents who were both teachers. After leaving school, Bernie took up chemistry before joining his family in England in 1963. Initially, he worked for British Rail for a couple of years before going to university to study mining engineering in Scotland. After a couple of years, he quit his degree, citing racism as a factor and became an international telephonist and union shop steward with the General Post Office Union of Post Office Workers.
There, he was introduced into the political world of trade unions and quickly became a rising star in the local authority workers' union, NUPE. He joined the Tottenham Labour Party in 1973. He was elected a local councillor in 1978 of Haringey council, and in 1985 was elected borough leader, the first black person to lead a local delegation in Britain before finally becoming, in 1987, one of the first African Caribbean MPs in British political history along with Paul Boateng and Diane Abbott, to win election to the House of Commons.
Bernie Grant was legendary for his outspoken left-wing views in the Labour Party, particularly on issues of race and class. He was a founder member of the Standing Conference of Afro-Caribbean and Asian Councillors and a member of the Labour Party Black Sections. Grant also co-founded the Parliamentary Black Caucus, which helped to tackle racism on a European-wide level, in association with members of the European Parliament and anti-racist groups. He served in the House of Commons until he died in 2000.
On Sunday, 28 October 2012, a blue plaque was unveiled at Grade II Listed building Tottenham Old Town Hall, where Bernie held his surgeries – some late into the night. The unveiling was followed by a gala reception next door inside the Bernie Grant Arts Centre Town Hall Approach, Tottenham, London, N15 4RX. It was attended by Bernie's wife, three sisters and two of his sons, friends and colleagues of Bernie Grant, past and present, distinguished guests, the London Community Gospel Choir, and several artists and celebrities.
Location: Tottenham Old Town Hall Town Hall Approach Tottenham, London, N15 2NR