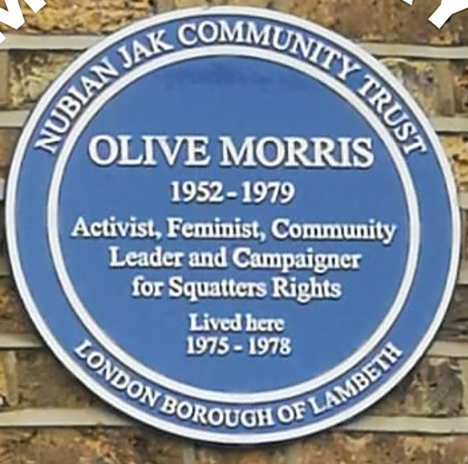 Olive Morris (1952-1979)Olive Morris (1952-1979)

Olive Elaine Morris was a Jamaican-born British-based community leader and activist in the feminist, Black nationalist, and squatters' rights campaigns of the 1970s. She was born in 1952 in St Catherine, Jamaica but moved to England when she was nine, first living with her grandmother and then with her parents in South London.

She later attended the London College of Printing (now named the London College of Communication) and studied economics and social science at the Victoria University of Manchester from 1975 until 1978. There, she became involved with grassroots political organisations, co-founding the Black Women's Mutual Aid Group and the Manchester Black Women's Co-operative (later the Abasindi Women's Co-operative).

At 17, Morris had experienced a violent assault by Metropolitan Police officers following an incident involving a Nigerian diplomat in Brixton, South London. The incident made her rethink notions of equality and justice around race, education, gender and housing. As a result, she joined the British Black Panthers. She became a key organiser in the Black Women's Movement: co-founding the Brixton Black Women's Group and the Organisation of Women of African and Asian Descent in London, and joined the squatting movement, pioneering squats in buildings on Railton Road in Brixton, home to 121 Centre and the Race Today Collective.

The Brixton Black Women's Group published the newsletter Speak Out and produced The Heart of the Race: Black Women's Lives in Britain, published by Virago Press in 1985. Dedicated to Morris, the book was republished by Verso Books in 2018. Morris also helped to establish a supplementary school after campaigning with local Black parents for better education provision for their children.

As part of the National Co-ordinating Committee of Overseas Students, she travelled to Italy and Northern Ireland. In 1977, she travelled to China with the Society for Anglo-Chinese Understanding. She was also involved with the Organisation for Women of Asian and African Descent (OWAAD), an umbrella group for Black women, editing FOWAD! The group's newsletter continued to publish after her death.

Tragically, Morris died at the age of 27 after receiving a diagnosis of non-Hodgkins lymphoma. Her life and work have been commemorated by official organisations – Lambeth Council named a building after her – and by the activist group Remembering Olive Collective (ROC). She was depicted on the B£1 note of the Brixton Pound and featured on lists of inspirational Black British women. The Olive Morris House at 18 Brixton Hill was demolished in 2020.

Location: 2 Talma Road Brixton London, SW2 1AU