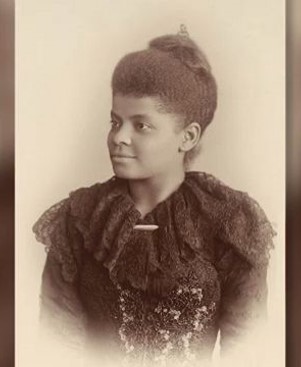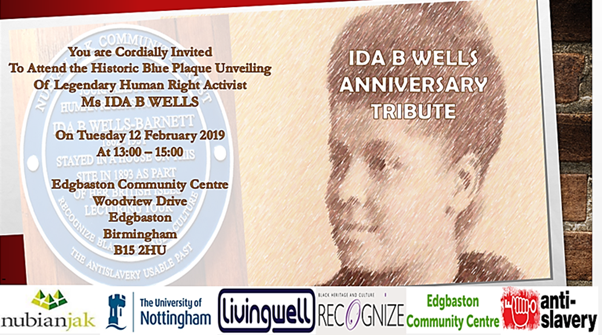 Ida B Wells Barnett (1862-1931)

Ida B Wells was one of the most important human rights activists in US history. She was born in Holly Springs, Mississippi on July 16th, 1862, during the American Civil War and would spend her life fighting against racism, sexism, and violence. In 1877 Ida attended Rust College in Holly Springs, quickly gaining a reputation as being rebellious. Within a year she had left, as well as experiencing the death of her parents and a younger sibling from Yellow Fever.

It was left for 16-year Ida to take a job as a teacher to keep the family together. In 1884, after she had moved the family to Memphis, Tennessee, and just aged 22, Ida filed a lawsuit against a train car company in Memphis for unfair treatment after being thrown off a first-class train carriage. She won the case, but the ruling was overturned in a federal court. This, and the indiscriminate lynching of African American men, women and children, induced Ida to publish her experiences and findings in a pamphlet.

However, her publishing of an 1892 lynching enraged locals, who burned down her press plant and drove her from Memphis. Ida eventually ended up in Chicago, Illinois, and within a year embarked on an international tour to expose the horrors of lynching. The first of two UK national lecture tours saw her stay with Mr A.H. Clothier and his wife at 66 Gough Road, Edgbaston, Birmingham.

Ida's accounts horrified the British public, and she was asked to return the following year. On her return to Chicago, she met and eventually married famed African-American lawyer Ferdinand Barnett. Together, the couple had four children. Ida passed away on March 25th, 1931, leaving behind an inspiring legacy of social and political fearlessness.

On 12th February 2019 the Nubian Jak Community Trust erected a Blue Plaque at the Edgbaston Community Centre, Woodview Road, B15 2HU. The location is the exact site of 66 Gough Road where Ida stayed in 1893.

As the great grandson, and on behalf of the family of Ida B. Wells, I am truly honored that you are paying tribute to my ancestor with the distinguished Blue Plaque. Her travels to the United Kingdom were significant in helping to sharpen her skills to fight for justice and equal rights. It was in the UK that she was able to further expose the international community to the extent, brutal violence, and reasons used for lynchings that were taking place in the US. She established alliances that lasted for decades and learned about community organizing, fundraising, plus creating women's clubs and organizations for social justice. Dan Duster, Great grandson of Ida B Wells

If Rosa Parks needed a role model, Ida B Wells was taking a similar stance against injustice 70 years earlier. As a writer, she was just as important as W.E.B. Dubois, and spent all her life tackling racism and sexism. We are delighted that Ida B Wells - Barnet will be the 42nd recipient of a Nubian Jak Blue Plaque, exactly 110 years to the day the NAACP was founded. Dr Jak Beula

Ida B. Wells is one of the most celebrated African Americans in history, and rightly so – she was a feminist, activist, author, and a social reformer who revolutionized transatlantic history by shining a light on white domestic terrorism in the United States. It's fantastic that her legacy and her important work in the British Isles is being honoured on this side of the Atlantic. Dr Hannah-Rose Murray of Nottingham University.

Unveiling a Blue Plaque for Human Rights activist Ms Ida B Wells at Edgbaston Community Centre is a real honour. Her fight for equality and her anti-lynching campaigns which brought her to Edgbaston, are aligned to the Birmingham's rich heritage of supporting social justice. We are proud that this Blue Plaque will enable the legacy and the amazing story of an often forgotten heroine of civil rights to be remembered and told. Pastor Derrick Dunkley, Chair of Edgbaston Community Centre.

Edgbaston was a hotbed of activity for campaigners of social injustice, equal rights and anti-slavery. It is only fitting that Ida B Wells, who campaigned and spoke in Birmingham, as part of British Anti-Lynching tour is recognizes. Garry Stewart. Director of Recognize Black History & Culture.

Ida B Wells was undoubtedly one of the greatest female leaders of the 20th Century. Her bravery in tackling racism and fighting for women's suffrage is renowned. We are proud of her historical connection with Edgbaston, Birmingham, and even more so now that she will be permanently memorialized with a Nubian Jak Community Trust Blue Plaque in the City. Yvonne Mosquito Lord Mayor of Birmingham

The Ida B Wells Tribute was delivered in partnership with Nubian Jak, Nottingham University, Edgbaston Community Centre, Recognize Black Heritage and Culture, and the Anti-Slavery Usable Past.

Read More https://www.search.connectinghistories.org.uk/details.aspx?ResourceID=1216&ExhibitionID=1220&SearchType=2&ThemeID=123

Location: Edgbaston Community Centre, Woodview Road, B15 2HU