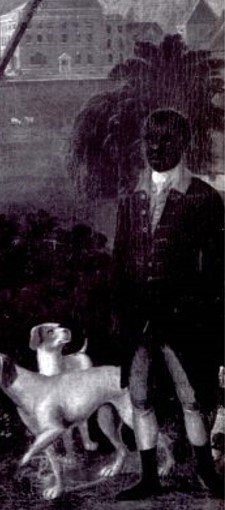 George Africanus (c. 1763 –1834)

The George Africanus blue plaque, hosted through Nubian Jak Community Trust and sponsored by Nottingham City Council and Nottingham News Centre CIC, is a tribute to the life and work of George Africanus in the City of Nottingham. The plaque marked his place of business and residence as well as being a site for visitors to find out more about him. The plaque complements the successful George Africanus Heritage Lottery Project by the charity Belong, Nottingham. The plaque was unveiled by the Lord Mayor of Nottingham, Councillor Ian Malcolm, on Thursday 9th October 2014 at 3.45pm in the presence of community representatives, city councillors, school pupils, volunteers, historians and George Africanus enthusiasts.

George Africanus was a native of Sierra Leone brought to England (possibly Liverpool) through West African slavers, but later became a Freeman of Nottingham and a successful businessman and property owner. At the ages of three, he was given as a 'gift' to Benjamin Molineux of Wolverhampton, who was a prominent iron trader and merchant. He was raised by the Molineux family in Wolverhampton, baptized in Wolverhampton's St Peter's Church and educated.

After frequent visits with the Molineux to their relatives in Teversal, a village near Mansfield, Nottinghamshire, in the early part of his life, George became familiar with Nottingham and decided to move to the 'Garden City' around 1784. Through his apprentice training and work experience in brass foundry, George sought and gained financial independence and a stable family life in Nottingham. His marriage to a local girl named Esther Shaw on the 3rd of August 1788 is documented in St Peter's Church, Nottingham and Nottinghamshire Archives.

Through determination, courage and savings from various jobs, George resided at 28 Chandlers Lane from 1788 and set about establishing a successful employment agency called the Register Office for Servants. This location is now situated at the site of The Major Oak Pub on Victoria Street in Nottingham. George became wealthy enough to purchase the building for £380 in 1829 (a huge sum of money then) and was able to convert and rent out three dwellings at the rear of his property to other families/businesses.

George gained voting rights and also served in the local neighbourhood watch scheme called the 'Watch and Ward' during the period of the Luddite Riots. He would have been prominent and possibly well known in his time and would have lived to a good standard through hard work, resilience and wise business endeavours. George Africanus's burial site is marked with a green plaque in St Mary's Churchyard, Lace Market, Nottingham.

Nottingham News Centre CIC is extremely proud to be a sponsor of the George Africanus Blue Plaque to celebrate George's life and works. We applaud George's motivation for entrepreneurial success, his resilience, commitment to serve his community plus his desire to do the very best he could do in 18th / 19th century Nottingham. He is an excellent role model for citizens and his achievements will be a talking point for years to come. Director of Nottingham News Centre CIC and Sponsor of the George Africanus Blue Plaque, Norma Gregory

I am delighted that the life and work of George Africanus is being in City of Nottingham and well done to all involved in honouring achievement in our city. Lord Mayor of Nottingham, Councillor Ian Malcolm

The city of Nottingham is characterized by a mosaic of people who have all contributed to make Nottingham a unique city littered with people who can and who have made a difference. George Africanus was one such person who dedicated his time and life helping others to recognize the richness of this mosaic, and the special contribution that such richness can make in improving quality of life. I am delighted to realize that steps have been taken to recognize the work of George Africanus, which I hope will be valued by the citizens of Nottingham and beyond. Former Lord Mayor of Nottingham, Dr Desmond Wilson

I am delighted to see this very important time in history being brought to light and to be given the recognition this gentleman so richly deserves. I am also thrilled that he came to live here in Nottingham where he established his employment agency, a business that has now been adopted by many other entrepreneurs throughout the UK. Former Lord Mayor of Nottingham, Councillor Merlita Bryan

Location: The Major Oak, 24-26 Pelham Road Victoria Street Nottingham, NG5 7JA