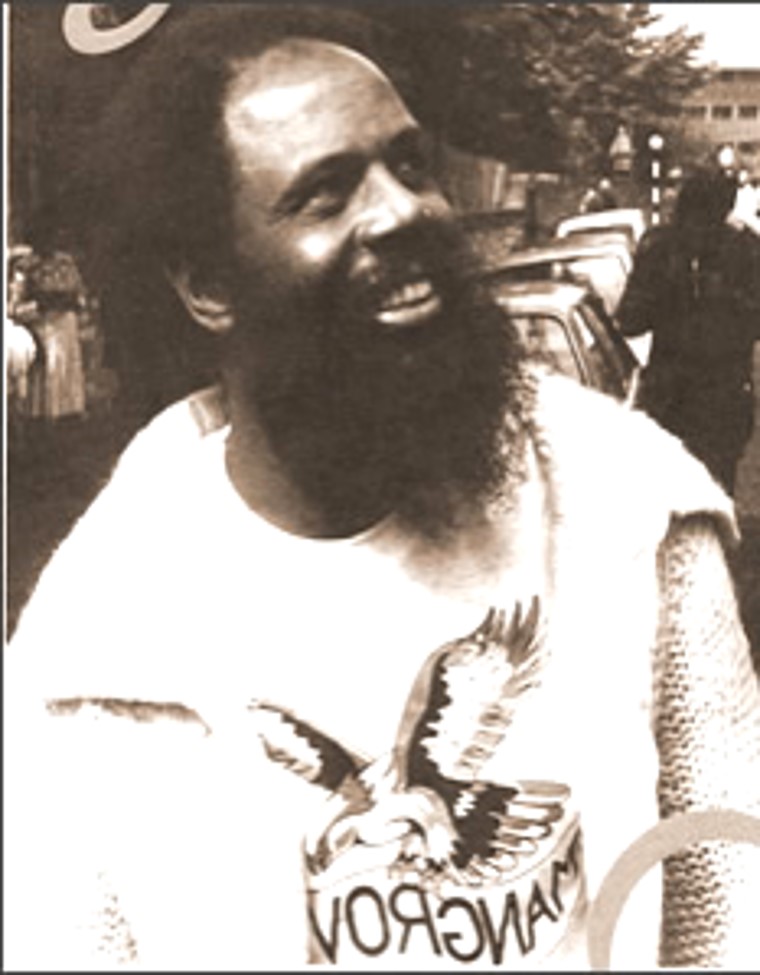 Frank Crichlow (1932 –2010) One of the most revered black community activists of post-war Britain, the legendary Frank Crichlow, was commemorated with a Nubian Jak blue heritage plaque in 2011 at No. 8 All Saint's Road, previously the heart of black culture and resistance in Notting Hill and the former site of the world-renowned Mangrove Restaurant for 24 years (now The Hurlingham Restaurant and Wine Bar). For more than a generation, the Mangrove Restaurant was an integral part of the social and political scene of African Caribbean life, not just in Notting Hill, but for thousands who would eventually make the capital their home.

Frank Gilbert Crichlow was born in Trinidad on 13 July 1932, in the Woodbrook district of Port of Spain. He arrived in Britain in June 1953, aged 20 taking up residency in Paddington. Only 5 years earlier, the Empire Windrush had docked in Tilbury, Essex carrying post-world war Caribbean migrant settlers to Britain, many of whom had served in World War II. Living in Paddington, Frank later recalled that it "could be a week before you saw another black person". Initially, Frank worked for British Rail before forming the Starlight Four band in 1956 and experiencing some success with appearances on radio and television. Three years later, he opened his first restaurant, the El Rio Cafe at 127 Westbourne Park Road, Notting Hill, where Christine Keeler had met her Jamaican boyfriend, Lucky Gordon. Their liaison would become the spark for the defining political sex scandal of the 60s, the Profumo affair, ultimately leading to bringing down the Conservative government of the time.

In 1968 Frank Crichlow opened the Mangrove Restaurant on London's All Saints Road. It became an instant success with the local community and was regularly visited by many celebrities, including Sammy Davis Jr, CLR James, (Lord) Tony Gifford, Jimi Hendrix, Vanessa Redgrave, the Four Tops, the cast of the Avengers, Nina Simone, Bob Marley, Marvin Gaye, Sarah Vaughan, Diana Ross and the Supremes.

Frank's love of music led him to co-found the award-winning Mangrove Steel band from his base on All Saint's Road. For the next 4 decades, the band would become an integral part of Notting Hill Carnival celebrations. Mangrove was a regular target for the Metropolitan Police, partly because of the free legal advice offered from the premises for people who had been unfairly arrested by the police. After numerous police raids which found no evidence of criminality, Frank Crichlow, Darcus Howe and seven others were arrested for "riot and affray" in 1970 after marching to complain about police harassment. Known collectively as "The Mangrove Nine", the highly Old Bailey trial became a cause célèbre, exposing racism within the police force. Eventually, he and the others were acquitted, inspiring Frank to help set up the Mangrove Community Association as an offshoot of the restaurant. However, despite being well-known for his anti-drug stance, in 1988, police officers conducted another drug raid on the Mangrove. This time when he was acquitted, Frank decided to finally sue the Met for false imprisonment, battery and malicious prosecution. He was successful and was awarded record damages in 1992 of £50,000. But the harassment had taken its toll, and the restaurant closed its doors for the last time that same year.

Frank continued his community work until increasing ill health put an end to this. On 15 September 2010, Frank Crichlow passed away after a long illness. He was survived by his son Knowlton and daughters Lenora, Francesca and Amandla from his former partnership with Lucy Addington. The solicitor Benedict Birnberg said: "Frank was a great person who stood out among others around him, never bitter, always it seemed to me cool in the face of discrimination and prejudice." The community development expert Vince Hines observed: "Because of his work, Britain has become a more tolerant, caring and balanced society.

The Frank Crichlow Blue Paque was organized by the Nubian Jak Community Trust, in association with the Mangrove Family, Black History Walks, and Kensington & Chelsea Tenants and Management Organisation. The unveiling included past friends and colleagues including the Crichlow family, Lord Gifford, Darcus Howe, Mike Mansfield, Diane Abbott, Paul Boateng, Baroness Howells, His Excellency Garvin Nicholas - High Commissioner of Trinidad & Tobago, the Mayor of Kensington and Chelsea and many more, along members of the public and press.

Frank Crichlow was an ordinary man who did extraordinary things. Darcus Howe.

He inspired the possibility of empowerment, challenging overweening and unaccountable authority, especially for groups which otherwise might have felt paralysed or intimidated. He was their voice- a one man West Indian Spring! Mike Mansfield QC.

Frank was a real black British superhero to me. As someone who met him several times while I was growing up in Notting Hill, I am proud to be involved with his commemorative blue plaque which will serve as another of his legacies for future generations. Jak Beula, NJCT

Frank Crichlow has, in a memorable way, made an impact on Notting Hill and its famous Carnival for decades to come. He was a symbol of resistance to persecution and his involvement in the Civil Rights Movement has helped make Britain a more accepting and tolerant society. His Excellency, Garvin Nicholas, High Commissioner for Trinidad & Tobago.

Crichlow may not have cried freedom but his actions and work to the community is well remembered. This is why I support this memorial to him. Baroness Ros Howells

The Mangrove Restaurant features on our Notting Hill and St Pauls Walk as it is a major premises in the Black British civil rights movement. Basic equalities we now take for granted, had to be fought for by people like Frank Crichlow and the Mangrove patrons. Tony Warner, from Black History Walks www.blackhistorywalks.co.uk

We are really pleased to be able to support the blue heritage plaque honouring Frank Crichlow who set up the Mangrove Community Association through which local projects were nurtured to improve housing and provide advice and assistance to the community. These activities develop stronger communities and help make Kensington & Chelsea a great place to be. Robert Black, Chief Executive for Kensington & Chelsea TMO.