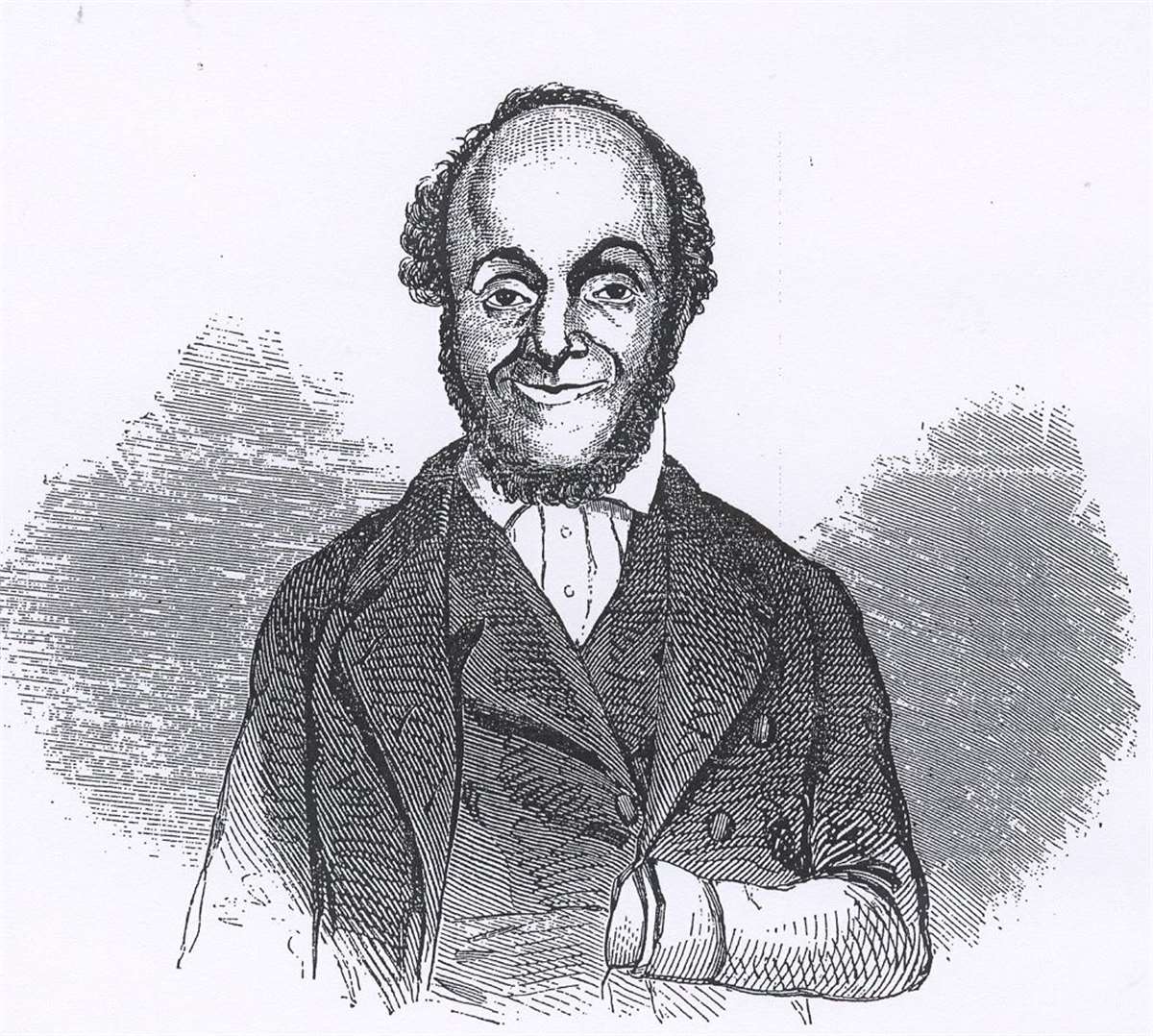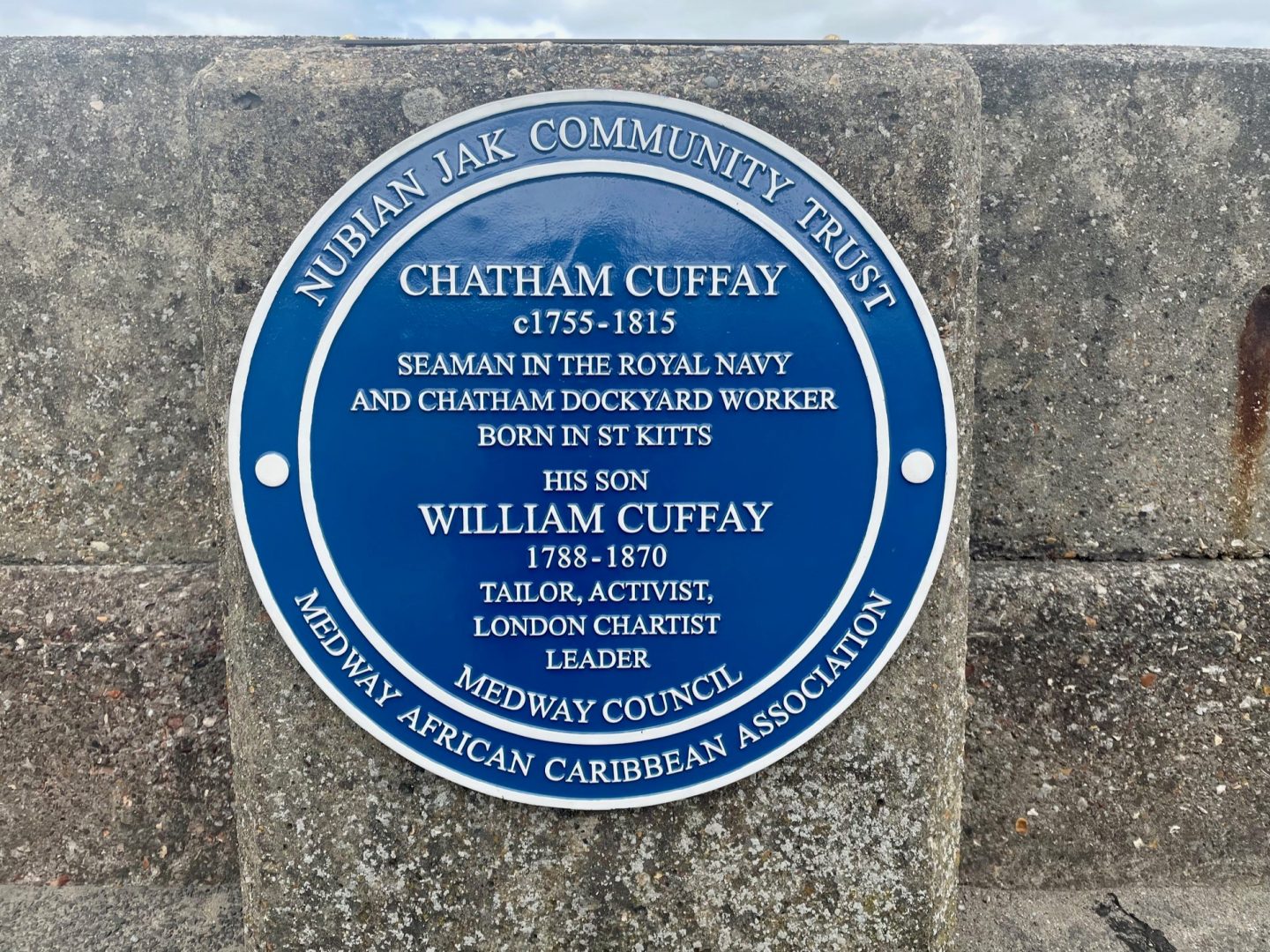 William Cuffay [ c1755 - 1815] and his father Chatham Cuffay [1788 - 1870]

Inscription: Chatham Cuffay c1755 -1815 Seaman in the Royal Navy and Chatham Dockyard Worker Born in St Kitts.

His son William Cuffay 1788 – 1870 Tailor, Activist, London Chartist Leader William Cuffay's father, known as Chatham Cuffay, spent his early years in St. Kitts. His parents were slaves who had possibly been freed and their son Chatham Cuffay is likely to have been born into slavery.

He emigrated to Medway, Southeast England from St. Kitts in 1772 with his mother. He was about 17 years old at the time. He was baptised in February 1772, soon after his arrival, and in 1779 found employment at Chatham Dockyard. In 1786 Chatham Cuffay married Juliana Fox who was probably a local woman. They had 5 children, William was the oldest. He was born in 1788 and baptised at St. Mary's in Gillingham on 6 July that year.

William Cuffay, born in 1788, was a chartist and a tailor, with a shop in Rochester High St, located at The Historic Dockyard Chatham. William started a movement that fought for the rights of workers, widely seen as the precursor to the Trade Union movement.

The plaque has been positioned where the Chatham Yacht would have been moored and subsequently where Chatham worked and boarded the ship from. Chatham appears in pay books across several years at Chatham Dockyard, the last entry being March 1803 where he is recorded as a Storehouse Labourer.

Chatham is by no means the first Black worker at the Dockyard but he is the first named. He represents an unknown number of slaves that, by free will or force, boarded Naval Ships in the Caribbean and established themselves in England.

To find out more about Cuffay and other notable historical Black people in Kent and Medway visit: www.blackhistorylive.org.uk

We are really proud to be unveiling this plaque to a family that made such a significant contribution to Medway. So much of our Black history is hidden or unknown, and without a balanced view of history that reflects all the important people who played a part in shaping it, then we will have a world where we continue to be misrepresented.

Installing the plaque at the dockyard builds on the amazing work we have done with the team there in bringing to life the untold stories of Black people in Kent, and their contribution to making the dockyard more inclusive.

Chairperson of MACA Carol Stewart Nubian Jak is pleased to be working with MACA to remember and memorialise Chatham Cuffay and his illustrious son William in the town of Medway. The Historic Dockyard Chatham is a particularly poignant place to install this historic blue plaque, which also serves as a marker for 100's of Black people who via the dockyard became familiar with the town between the 18th and 19th century. Dr Jak Beula I'm pleased the plaque has been officially unveiled at The Historic Dockyard Chatham to celebrate a family that made such an impact. The equality and inclusion of all Medway residents is among our top priorities, and we are proud to celebrate everyone in our community. Councillor Howard Doe, Medway Council's Portfolio Holder for Community Services, https://www.youtube.com/watch?v=f1AQpNqGEa4

Museums, heritage sites and memorials have an important role to play in supporting an inclusive, diverse and equal society. We have a responsibility to educate people about the lessons of the past. Britain's history is intertwined with terrible colonist acts and the transatlantic slave trade, this legacy must drive us to do more to stand against inequality. For over 8 years now we have been working in partnership with MACA and we thank them for supporting us to learn as an organization and for enabling us to discover the stories and history that had not previously been told here at the Dockyard.

The groundbreaking exhibition 'Untold Stories; A Celebration of Black History Kent' was an important step for us and has paved the way for telling the stories overlooked or forgotten. Specifically, today, the story of Chatham and William Cuffay. People often talk about the importance of William Cuffay. However, it is his father Chatham Cuffay whom is significant to the story of The Historic Dockyard Chatham.

Richard Morsley, Chief Executive, Chatham Historic Dockyard Trust Location: Chatham Historic Dockyard, Main Gain Road, Medway, Kent ME4 4TZ