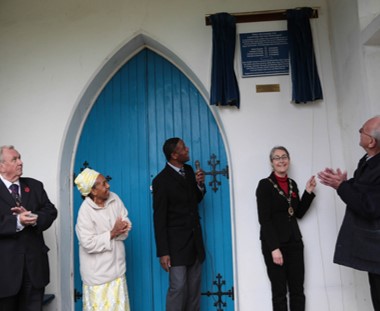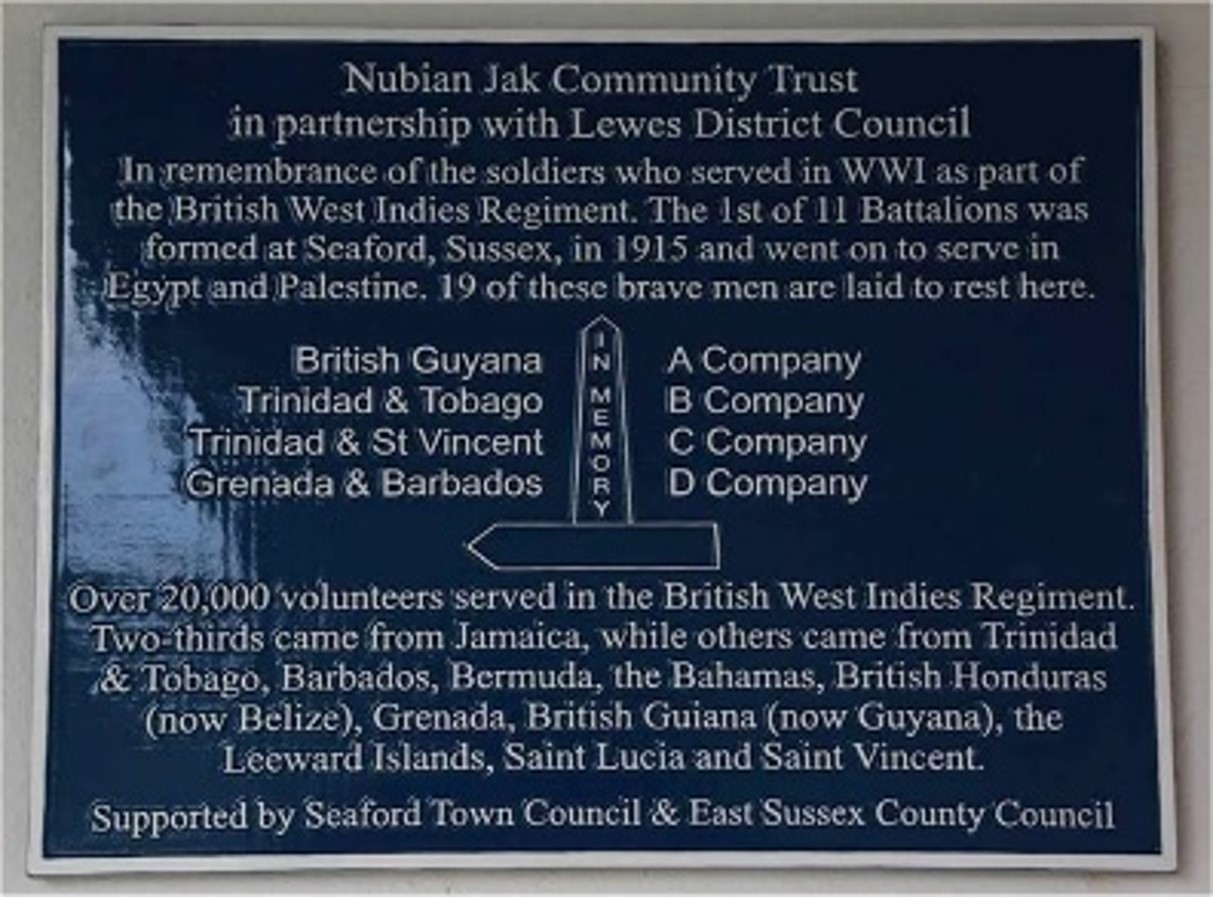 The British West Indies Regiment

The British West Indies Regiment was established on the 26th of October 1915 at Seaford, East Sussex and was comprised of West Indian volunteers.

In 1914 thousands of West Indians left the British colonies to enlist in the army in the UK and were recruited into British regiments. The 1st Battalion was formed in September 1915 at Seaford, West Sussex, England. It was made up of men from; British Guiana/Guyana—A Company, Trinidad—B Company, Trinidad and St Vincent—C Company and Grenada and Barbados—D Company. A total of 397 officers and 15,204 other ranks served in the British West Indies Regiment.

The regiment's battalions served on the Western Front and in the Middle East during the First World War, in East Africa, Egypt, Palestine, Jordan, France and Italy. The Regiment was awarded 5 DSOs, 9 MCs, 2 MBEs, 8 DCMs, 37 MMs and 49 Mentions in Dispatches. An audience gathered at Seaford Station, Station Approach, East Sussex, BN25 2AR, on the afternoon of Monday, 12th March, for the unveiling of a blue plaque to celebrate the regiment. The unveiling was supported by the councils of Seaford, Lewes and East Sussex who had worked on the project for two years, war veterans, in-service men and women, the Mayor of Seaford, Seaford Railway Staff, along with members of the general public and the media were in attendance.

It is a great privilege to be included in the proceedings to commemorate and honour soldiers from the West Indies, who fought for Britain in WW1. Recognition and acknowledgement of their brave contributions to the war effort have been long overdue. My uncle, Private Robert Smith, of the 7th Battalion of the British West Indies Regiment, and whose grave is in Belgium, was one of those who made the ultimate sacrifice. My relatives and I are extremely proud of his and his comrades' legacies. Beulah Coombs, Lecturer and Niece of a WW1 BWIR Private.

It is fantastic that the British West Indies Regiment will be recognised in Seaford with a plaque for their service during the war. During WW1 81 medals were awarded for bravery and 49 mentioned in dispatches and perhaps this plaque can be seen as Seaford's honour to the men for their incredible bravery. Thomas Exley, Young Mayor of Seaford Town Council

Location: Alfriston Road Cemetery Seaford, Lewes District, East Sussex, BN25 3J