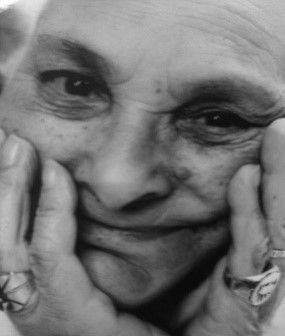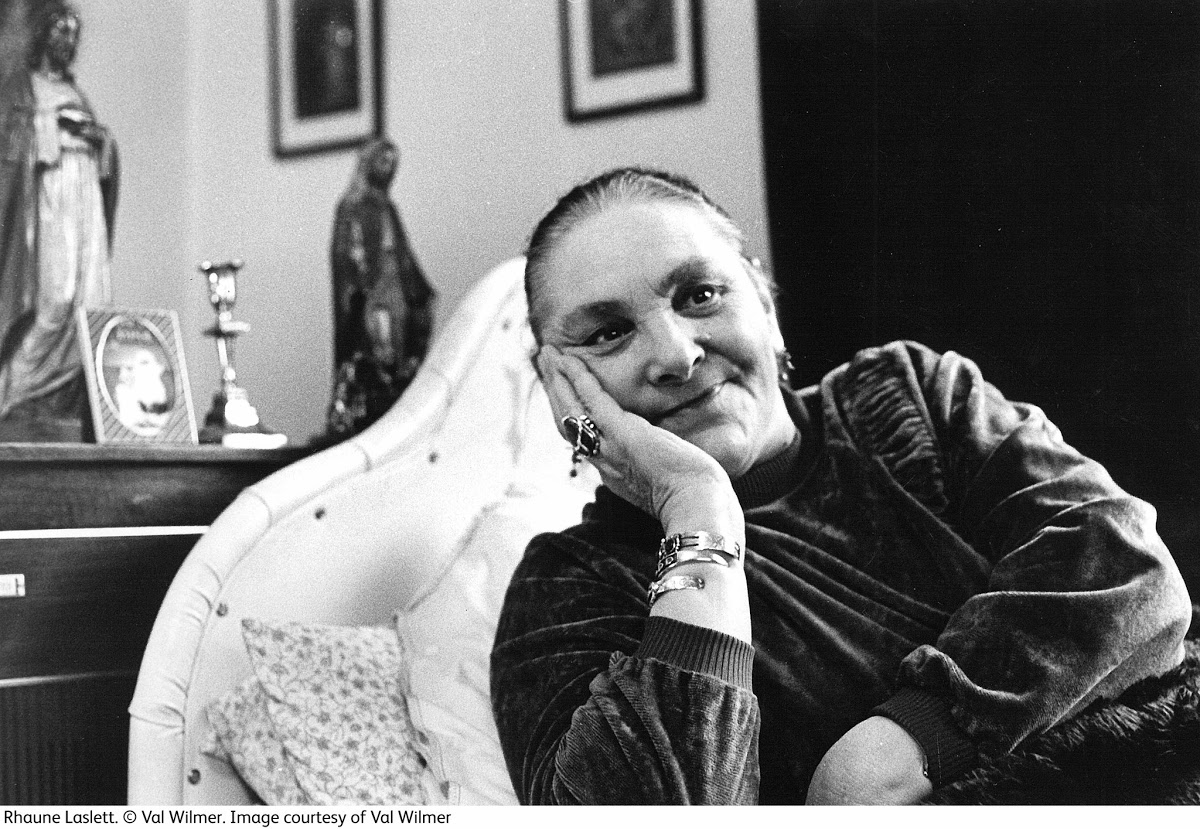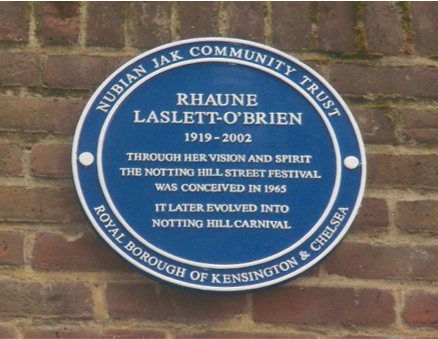 Rhaune Laslett [1919 - 2002]

To celebrate the 2011 Notting Hill Carnival two Commemorative blue plaques were unveiled to honour the two First Ladies of Europe's largest Street festival.

It is commonly thought that Claudia Jones started Britain's first Caribbean Notting Hill Carnival. However, that honour goes to a community worker and social activist named Rhaune Laslett O'Brien who introduced the weeklong Notting Hill Street Festival in North Kensington – a multicultural take on an older local fayre. Claudia Jones had been an inspiration, raising money for the victims of the 1958 August bank holiday Notting Hill riots.

Rhaune Laslett was born in London's East End in 1919, of Russian and Native American heritage. Laslett lived in West London for most of her adult life, which after WW2 became one of Britain's most diverse districts. She dedicated her life to helping the poor, fighting for better housing and community cohesion. Her home was opened to the community and her work was supported by luminaries including Muhammad Ali and Marc Bolan. Her motivation for reinventing the Notting Hill Fayre was to give local people a chance to celebrate together the many different cultural backgrounds within the area of Notting Hill.

At the first festival Rhaune invited professional musician Russell Henderson and his group to play the steelpan in her playground. After several hours in the playground, Henderson told fellow musician, Sterling Bettencourt and others in the band to walk down the street with the pan around their necks. What then followed was a procession of people dancing through the streets of Notting Hill behind the sweet sound of steelpan music. The panmen had brought the spirit of Caribbean Carnival to Rhaune Laslett O'Brien's multi-cultural celebrations. No one could know at the time it would eventually develop into becoming Europe's largest street festival.

From 1966 until the early 1970s Rhaune Lasslett worked with the Caribbean community, many of them her friends, to organize the Notting Hill Carnival. In 1973 Leslie Palmer took over running the event and created the carnival we know today by introducing costume bands and sound systems as well as reaching out to communities beyond Notting Hill.

Rhaune Laslett died in April 2002, after suffering from multiple sclerosis for 50 years. But her legacy of racial tolerance and cultural respect can be seen every August Bank Holiday when people of diverse backgrounds come together to celebrate on the streets of West London. The unveiling of the Claudia Jones and Rhaune Laslett plaques officially opened the 2011 Notting Hill Carnival Weekend celebration.

For nearly half a century Notting Hill Carnival has been a major event, not just for black Britons, but Britain as a whole. It makes complete sense to recognise the key people in its creation and Rhaune Laslett is certainly one of those. Councillor Sir Merrick Cockell, Leader of the Royal Borough of Kensington and Chelsea.

The Trust is delighted to be honouring Ms Rhaune Laslett with a commemorative plaque this year. As one of the key architects of the Notting Hill Carnival, her vision of a multi-cultural festival inclusive of all, could not be more fitting for the nation's capital in 2011. Founder of the Nubian Jak Plaque Commemorative Plaque Scheme Jak Beula.

Rhaune Laslett's contribution to one of London's most important cultural events is far too often overlooked. We hope this recognition will remind everyone that she was every bit as important as all the other pioneers of Notting Hill Carnival. Chris Boothman, Joint Chair of Notting Hill Carnival Limited.

It has always been my intention to honour Rhaune Laslett at the Carnival Village, The Tabernacle, especially after we paid homage to Claudia Jones at this venue. It is pleasing to see this eventual realization that I know will not only satisfy her family but bring the desired balance to who were the pioneers of Notting Hiil. It is fair to state that despite all the male interventions over the years with the governance of the Carnival, another woman is being honoured as a pioneer to this London iconic event. Shabaka Thompson Chief Executive of Carnival Village.

It is a great honour for Notting Hill Carnival to pay homage to Rhaune Laslett through presentation of the plaque being unveiled in what became her home as one of our key pioneers of this great Carnival. From a one thousand people event to over a million people event, we owe tribute to this great great lady and community leader who would have never ever dreamt that this cultural gem was to become Europe's biggest street event. Pax Nindi, Creative Producer for UK Centre for Carnival Arts.

VIDEO ABOUT RHAUNE LASLETT https://www.facebook.com/CarnivalVillageTrust/videos/rhaune-laslett/1152259171837769/

Further Reading: https://www.amazon.co.uk/Carnival-Photographic-Testimonial-History-Notting/dp/0954529324

https://www.waterstones.com/book/the-frontline-2022/ishmahil-blagrove-jr/lawna-tapper/9780954529338

Location: 78 Tavistock Rd (Carnival Sq) Ladbroke Grove London, W11